Table of Contents
Romance is a popular and widely read genre in India. New promising authors are diving in by writing some exceptionally well romantic novels. It sometimes becomes fairly difficult for the reader to decide which one to read as on Amazon or any other portal, there are plethora of Indian romantic novels.
To make it easier for you, we have compiled a list of 15 Best romantic novels by Indian authors.
Let's begin
1. Take Me Away by Rishabh Bansal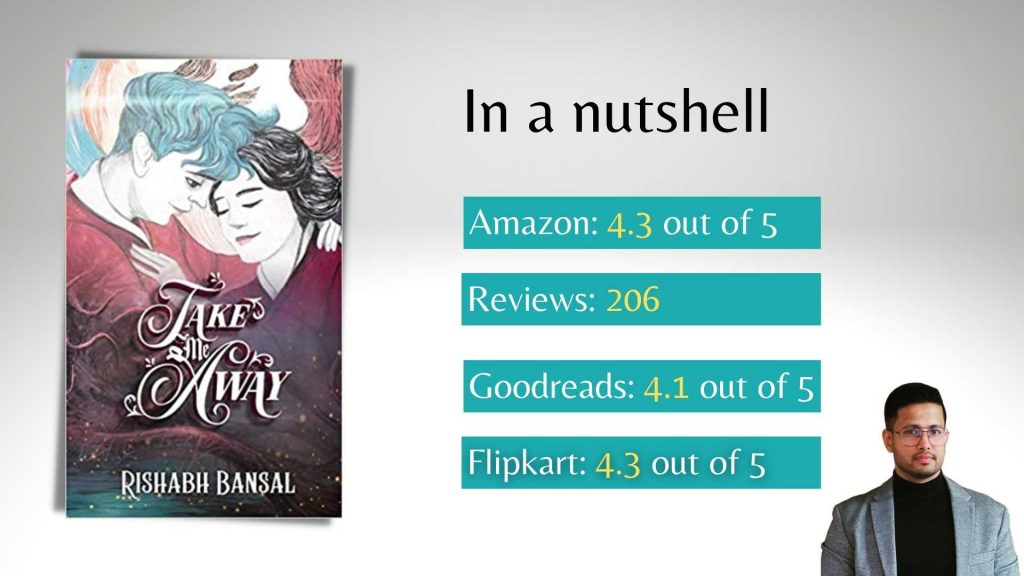 Take Me Away by author Rishabh Bansal is a fictional love story novel. It is a story of two different characters – Anaya and Ayan.
Story revolves around our protagonists Ayan and Ananya. Ayan is an introvert while Anaya is very outspoken. Both of them have different personalities yet they fall in love and it's like a fairytale for them.
But love doesn't always happen easily so they also face their ups and downs in their love life.
Best part is the narration. The author without portraying any kind of erotic scenes makes this book lovable and romantic to read. The book shows the power of positivity.
Released in September 2020, the novel is highly appreciated by the readers. Read the reviews here.
---
2. Everyone Has A Story by Savi Sharma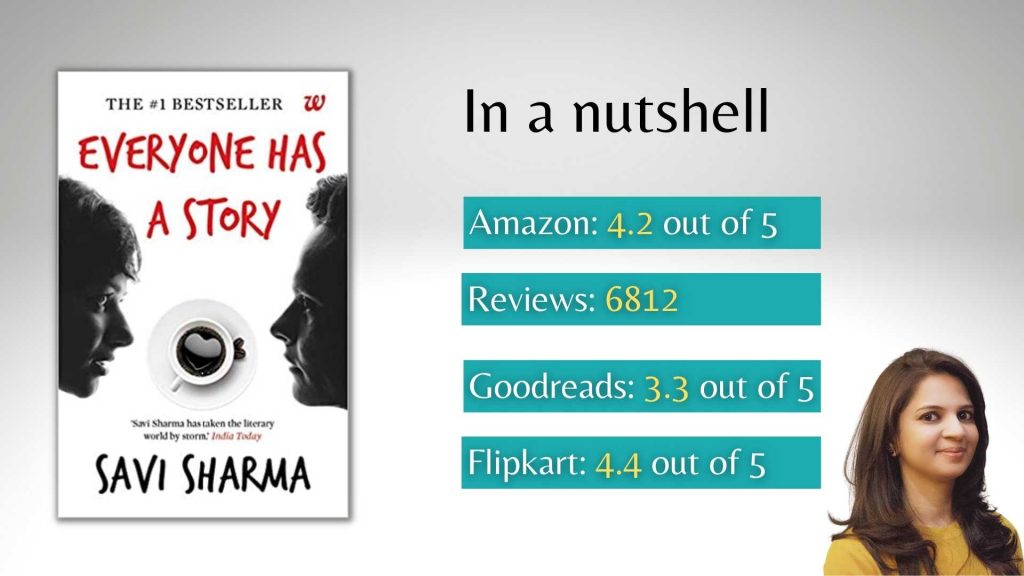 This is one of the best Indian romantic novels. This was the bestseller and is the first novel of Savi Sharma. The story proceeds like a typical bollywood movie.
The book has four main characters:
Meera, an aspiring novelist.
Vivaan, an assistant bank manager and traveler.
Kabir, cafe owner.
Nisha, a regular visitor to the cafe.
Soon, their lives are connected. The story beautifully makes you experience varied emotions of love, trust and faith.
The language of the book is simple, anyone can read it, even the beginners.
---
3. Promise Me a Million Times by Keshav Aneel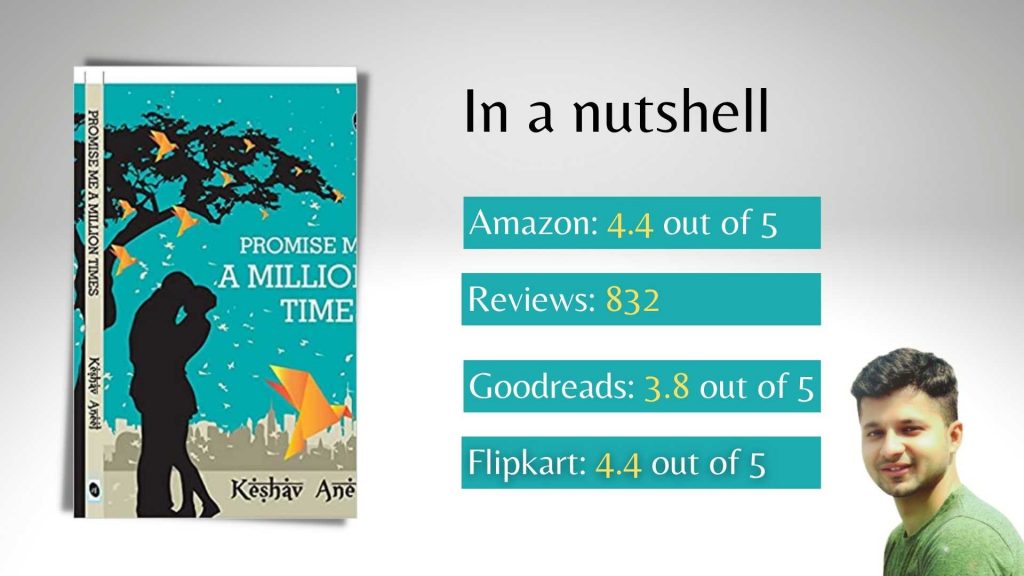 The story revolves around Aster and Charlie. Charlie's best friend was Ed and they both were orphans.
To change their lives and make a better living they shift to the town where they met four friends. Charlie falls in love with aster. Previously, Charlie was a writer but didn't want to do it again and Aster was a doctor.
The story is about a rape victim, who chose to be happy despite all the odds.
---
4. You Only Live Once: One for Passion Two for Love Three for Friendship by Stuti Changle
It is a story of Alara, Aarav, Uncle Ricky and Elisha. The main and core character of the story. She is a famous singer and a divorced woman searching for herself.
They all are on their own journey's of life. Aarav is stuck in a 9-5 job, and wants to become a comedian. Alara too wants answers about her life and Uncle Ricky devoted his life to music and loves Elisha.
This is a story of hope, trust, patience and courage. It is one such book which will make you emotional and take you to the end.
---
5. I Too Had a Love Story by Ravinder Singh
It is a story of Ravin and khushi. They both met through a matrimonial site and fell in love. They were able to convince their parents for the marriage but the fate plays its role and an incident two days before their engagement changes their whole life.
The book will make you connect on an emotional level. The language is simple.
What catches the reader's attention is the simplicity and honesty with which the book is written.
---
6. You are the Best Wife: A True Love Story by Ajay K Pandey
The story is a real love story of the author and his wife – Ajay and Bhavna.
The author described how the caste system is the biggest hurdle in the way of intercaste marriages. Also, the book highlights real life problems like medical expenses and talks about Indian medical system.
The simplicity and depth with which the book is written keeps you hooked till the very end.
---
7. Wish I Could Tell You by Durjoy Datta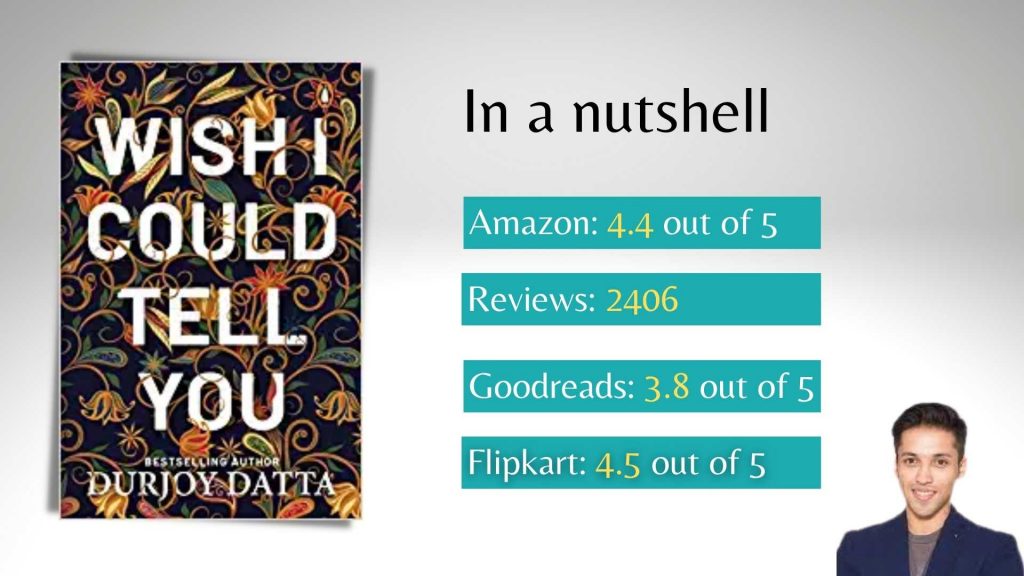 It is a story of Anusha, Gautam, Ananth and Mohini. All the four characters are different.
Anusha, who is working at a fundraising website. She is feminist kind of a girl due to her past incidents. Ananth is a good looking guy, full of love and life.
The suspense, drama in the book helps the reader to turn pages and read till the end. Some unexpected turns in the story do give the reader a chill down the spine.
---
8. You are My Reason to Smile by Arpit Vageria
This love story is a light-hearted romance novel to which everyone could relate. The characters are sketched beautifully.
This novel revolves around the protagonists Ranbir, Adah, Pihu Sharma, Lakshya and Rehaan. Ranbir is a dreamer; he has a good job. He adores Adah and can forgo anything in the world for her sake.
The story inspires you, motivates you to keep going and never give up.
---
9. The Girl in Room 105 by Chetan Bhagat
Chetan Bhagat is one of the Top Indian love story writers and this is one of his latest release.
It's a Murder Mystery, weaved around the issues of love. It beautifully connects all the characters with one major plot pillar. The story revolves around Zara Lone, a kashmiri girl and Keshav Rajpurohit, son of an RSS Activist. They both were studying in IIT and fell in love.
The narrative of this romantic novel is simple. Good for beginners and good to form reading habits.
---
10. Life is What You Make It by Preeti Shenoy
The main Protagonist of the story is Ankita Sharma, who is suffering from bipolar disorder. The story further proceeds how she copes up with all the challenges and creates a life she wants.
Experience the 90's in the initial part of the book. The write-up and the narration is superb. The author has given an in-depth description of things. Overall it's a good read and appreciated by the audience.
---
11. The Diary of My Love by Deesha Sangani
This is a story of Anushka and her life which is full of struggles – majorly in her love life.⠀
Anushka, the perfect, good looking, hard working girl knows how to balance love and work. But sometimes, life is a bit unfair and she's left sprawling for support.
The book will make you laugh and cry. Overall it's a good and refreshing read.
---
12. A thing beyond forever by Novoneel Chakraborty
A thing beyond forever is an eternal love story that highlights various aspects of life, love, heartbreak and friendship.
It is a story of Dr. Radhika Sharma. She is all what girls today aim to be, educated and independent. She is arrogant to the outside but broken from inside due to the unforeseen death of Raen who was her first love.
The vocabulary is good. Beginners could learn a lot of new words. Overall the novel is appreciated with 60% of the reviewers giving it 5 star rating on Amazon
---
13. A Second Chance by Sudeep Nagarkar
The main characters of the story are Disha, Dhruv, Kajal and Raghav. The essence of the novel is it's better to work on a relationship.
The lessons that the novel teaches are love, trust and friendship. It also teaches that no situation in life is so bad that it can't be repaired and re- built. The only thing matters is the approach.
The narration and language is simple.
---
14. The Girl Who Knew Too Much by Vikrant Khanna
The book kicks off when a man named Harry sees a little girl crying. She is devastated by her mother's death and finds hope in the story told by Harry.
The book has two major plot twists in the first hundred pages that would make a reader want to continue with the book.
It is totally a fictional love story. If you love somewhat realisitic stories, you can avoid this one. There are distinct views of the readers on this novel. Some loved reading this fictional write-up while others just brushed aside this concept.
The cover is beautiful. This book also teaches you a lot of good things. Overall, it's a good read.
---
15. A Half-Baked Love Story by Anurag Garg and Gunjan Narang
This Novel shows a different perspective Of Love And Life. It will make you learn to love yourself.
The main characters of the novel are Arav and Anamika. A terrible past is haunting the characters as they try to find happiness in the present.
There is love, fun and sorrow in this book. Go for it.
---
So, this is the list of Top romantic Indian novels. Do share which one do you like. Also, let us know in comments, if you want us to add anything in this list. Do share the list on your social channels and with your friends.